Updated by Benjamin Norton
Getting Your Video Edited
You can request a professional video edit using the Request Video Edit button at the top of all projects.

Please check the following steps are completed fully before you request a video edit of your project:
All your media is uploaded into the project including backgrounds, logos, audio and other elements you would like added to your video
The script or transcript is added to the project, if you used our Teleprompter to create the video or voice-over. We use this as reference for the captions in the video. If you did not use the teleprompter or provide a transcript, then you can skip this step.
All media items and text notes are added to the Script area for the editors to reference, this may not be necessary based on your needs, per project.
Upon requesting your video edit you have decided upon a video format to be edited based on social media ratios and sizes.
Your additional comments can be added at anytime into the Activity area after clicking, Request Video Edit
If this button is not available that means the video is already in one of the editing or review steps.
New Video Edit Order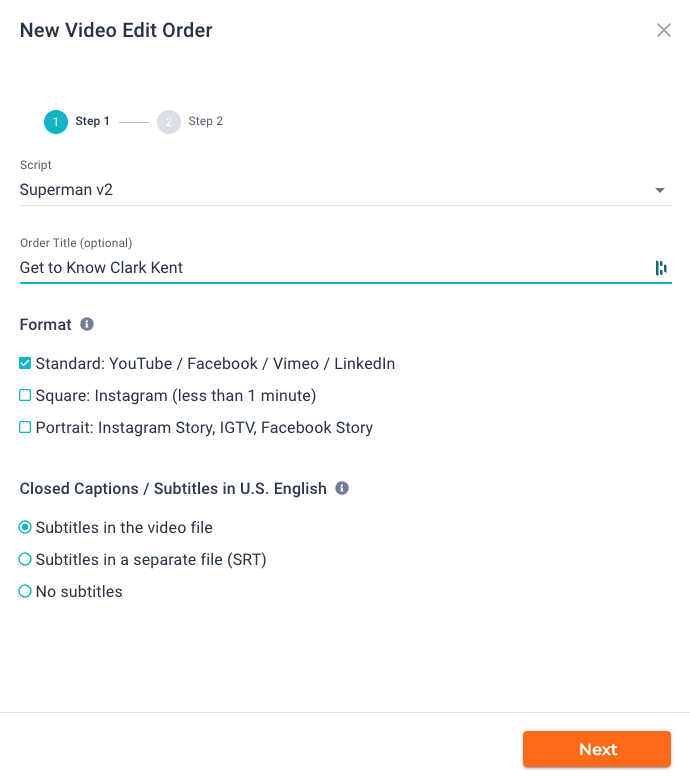 Script: choose one from the dropdown menu or the default script will be used
Order title: Create a video title, use the exact punctuation and capitalization you would like displayed on the video. If none is supplied, we will use your script title, or decide on one for you.
Format: Please select one of the following visual layouts

Standard: YouTube / Facebook / Vimeo / LinkedIn (16:9 ratio)
Square: Instagram (1:1 ratio)
Portrait: Instagram Story, IGTV, Facebook Story (vertical)

Closed Captions / Subtitles* (in U.S. English)

Subtitles in the video file (added as text overlay in the lower 1/5th) [Default setting]
Subtitles in a separate file (SRT)
No subtitles
*Over 80% of viewers watch social media content videos on mute with no sound, so video captions have become very important.
Click Next, you will then see your PitchHub account and display your remaining plan credits based on your video package, or you will be asked to provide billing information to complete this edit.
_______________________________________________________________________
ACTIVITY
To see the current project workflow status, click on the Activity tab.

*The Edit Video button is now labeled Request Video Edit
Reviewing / Approving a video
When your video is Ready For Customer Review, you will get an email and/or text notification* from our editing team. Inside the project the Approve button will appear at the top area of the project. We need you to approve it or inform us of any changes we need to complete.
_________________________________________________________________________
*Be sure to check your Account profile that you have email and text notifications set up for you. Click your name in the upper right hand corner and click Profile & Preferences, then click Notifications.

Email notifications - slide on to receive
Text notifications - slide on to receive, add & confirm your mobile number
_________________________________________________________________________
Your edited video will be in the Media area of your project, typically the first file in this area. Click the video open and view it.
If video needs more work, return to the Activity area then you can click on Status choose Needs more work. The project status will be changed and please type in an exact changes as comment you are requesting.

If your video does not need any changes, change the Status to Approved.
Once approved, return to the Media area and click the 3 dots under each file to view the Downloads and Exports, for sharing elsewhere.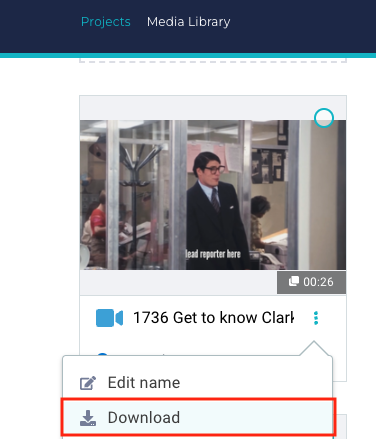 You have now completed the edit process for this video project, congrats, well done!
Click here for more details on Downloading, Exporting and Sharing your new video!