PitchHub Teleprompter Studio Webex App
Updated by Rene Maca
PitchHub Teleprompter Studio Webex App
The PitchHub Teleprompter Studio is a Webex app that can run the teleprompter inside of a Webex Meeting. Please see this page for more information about the features.
Getting Started
Make sure that you have an account on Webex or Sign up here
In your Webex desktop application click on the Start or Join Meeting button
Install/load the PitchHub Teleprompter app by clicking the in meeting Apps button located at the bottom of the Webex Meetings window
Search for PitchHub Teleprompter app or if you haven't already installed using your browser from Webex App Hub
If you do not have a PitchHub Teleprompter app license you must subscribe to the PitchHub service to before using the Teleprompter app.
If you have PII disabled in the Webex tenant you will be prompted to enter your email address to establish your identity with PitchHub
The first time the app loads during a meeting, it will be locked to the right side of the screen

To Pop Out the Teleprompter with the Webex meeting click the pop-out button in the upper-right of the Webex Meeting window
Move & size the window to how you want it
Paste text for your script
Change the visual settings (e.g. Font size)
Click play to start playing the teleprompter and adjust the Scroll Speed to match your speaking rate.
See this help page for a full list of teleprompter settings
Note: not all settings are available in the Webex App
Example of screenshot during a Webex meeting: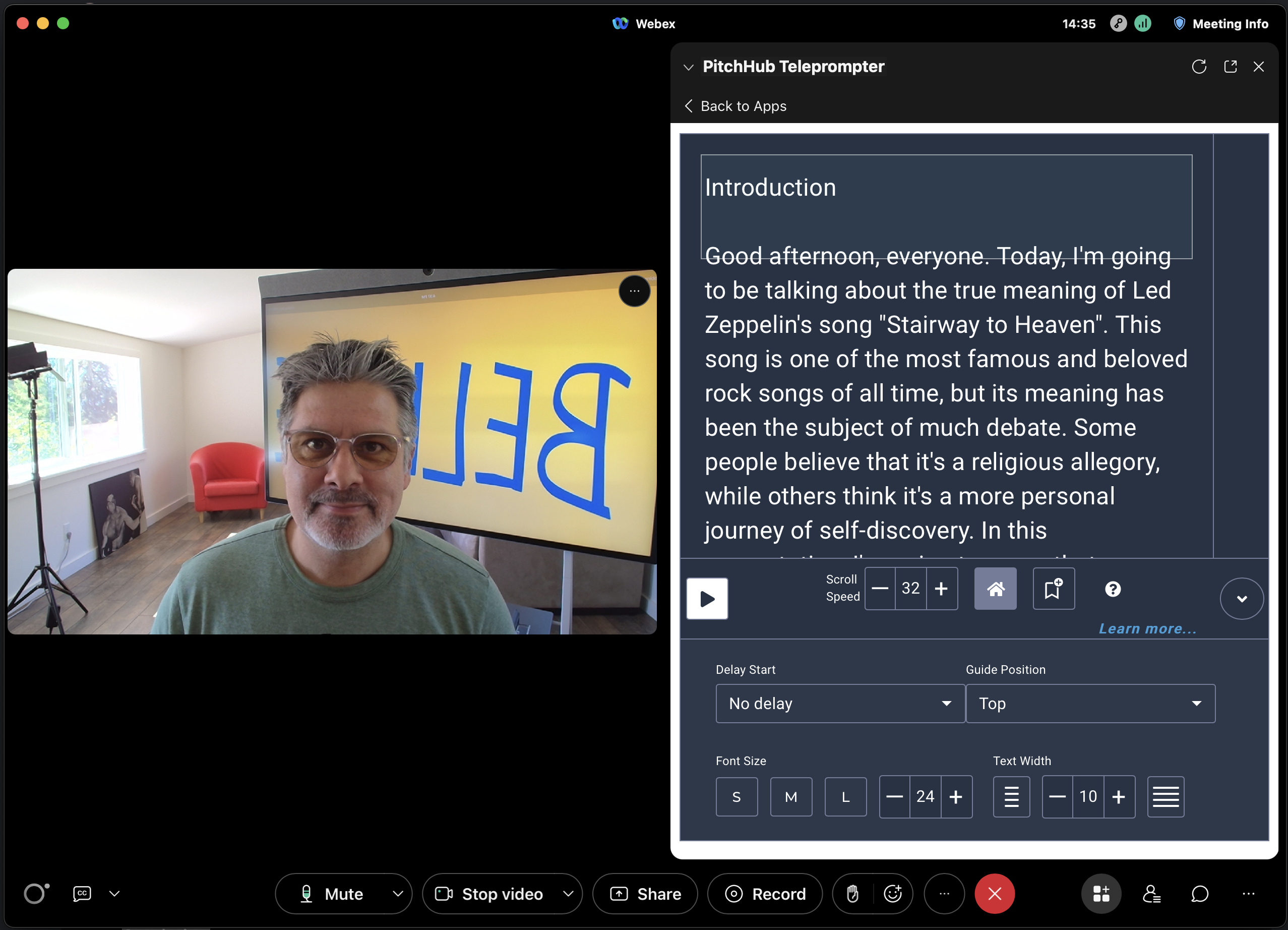 When sharing your screen during a Webex meeting and using the PitchHub Teleprompter, you may notice the Teleprompter and other Webex apps have been hidden as part of the screen-sharing experience.  To bring the Teleprompter app back to the front of the screen:

Navigate to the top of your screen, there will be a drop-down Webex menu. 

From this menu, click on the expand menu option which is located at the right side of the menu bar. 
Once the menu expands there will be an "Apps" menu, click on this menu to restore the PitchHub Teleprompter window.
The video below shows how to do the steps described above.
Support
Support Teams Hours of Operation

9 AM-PT to 5 PM-PT, Monday through Friday on U.S. non-holidays

First response goal
Chat

To communicate with support, please use the chat widget in the lower right side of this help page

Email